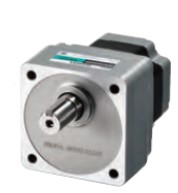 Brushless Motors has slim bodies and provide high output and high efficiency due to the built-in permanent magnets. The built-in sensor (Hall IC) constantly monitors the motor's speed. No matter the load conditions, feedback control is carried out at all times so that the command speed and actual speed remain consistent.
Speed stability with feedback control
Brushless motors compares the setting speed with the speed feedback signals form the motor at all times and adjusts the motor's applied voltage. Speed is kept stable over the entire speed range from high to low even when load fluctuates
Compact and lightweight
Installation is easy and both weight and equipment weight and space can be reduced.