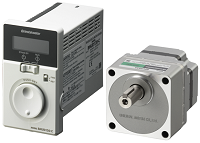 The BMU Series is a compact, high power and high-efficiency motor which does not compromise on user-friendly features at an affordable price. Once the motor and driver are connected, all you need to do for this simple wiring is turn on the switch.
Thin, Lightweight and High Powered
The brushless motors uses permanent magnets so that they are thin and lightweight but yet have high power. This contributes to the downsizing of equipment.
Wide Speed Control Range
Brushless motors has a broader speed control range control compared to AC motors and inverters. The are ideal for applications that requires a constant torque for all speeds, low to high.