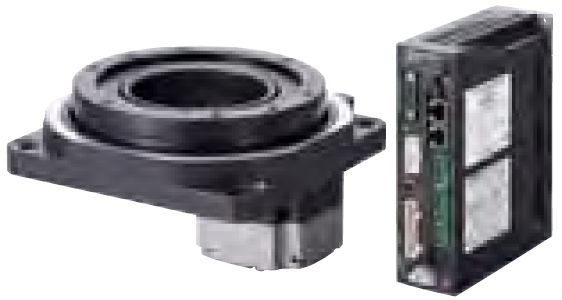 The DGII Series with AZ integrates hollow rotary tables and stepper motor product lineup to now includes models with built-in AZ Series products. The battery-free absolute system positioning contributes to improved productivity and cost reduction.
High Positioning Accuracy with non-backlash
The amount of error generated when positioning is performed repeatedly in the same position and in the same direction is highly dependable on high accuracy.
Simplified Design
Table and arms can be installed directly onto the output table, which saves the trouble and cost of designing an installation mechanism , arranging necessary mechanism parts when the mechanical companents such as belt and pully as used for installation
Compatible Network Types
The motor part adopts the αSTEP AZ series equipped with ABZO encoders that do not require batteries making it compatible with major FA networks used all over world, and contributes to centralized management of device information and reduced wiring. Compatible Networks includes EtherCat, EtherNet/IP, Profinet, Mechatrolink-III, SSCNETII/H, ModBus (RTU)