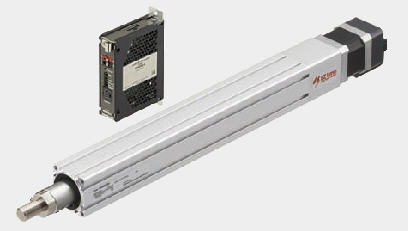 A motorized cylinder equipped with the highly efficient and energy saving AZ Series on the motor Other than standard types, the actuator is available with side-mounted types that contribute to space saving by shortening the full length.
Compact and high thrust
These motorized cylinders produce high thrust force even though their compact and lightweight bodies uses an aluminum rod. The unique structure suppresses vibration to achieve improved acceleration characteristics and high-speed positioning operation.
Supports a wide range of speed
From low speed to high speed, from high load to low load
Compatible Network Types
The motor part adopts the αSTEP AZ series equipped with ABZO encoders that do not require batteries making it compatible with major FA networks used all over world, and contributes to centralized management of device information and reduced wiring. Compatible Networks includes EtherCat, EtherNet/IP, Profinet, Mechatrolink-III, SSCNETII/H, ModBus (RTU)