LX-100 Series Color Mark Sensors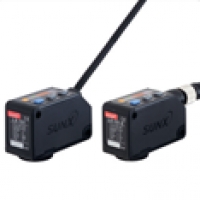 Various functions to ensure the best mark sensing
Sensing modes can be selected depending on the application. Has a built in "Mark Mode" that realizes an ultra quick

45µs

response time as well as "color mode" offering the best mark color discrimination capacity. Use either of these modes as per application
The color mark sensor utilizes 3 LED elements (R-G-B) offering high precision sensing of any color marking.
A four digit digital display allows for user friendly setting and monitoring.
The operation mode can be easily seen and confirm through the main display.