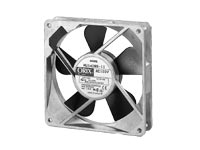 MU Series is a axial flow fans use a blade (propeller) to generate air flow in the direction of the axis of rotation. Capable of generating a large air flow, axial flow fans are suited for applications requiring ventilation and cooling where the entire space inside the device must be cooled.
Safety Standards
Items in this series conform to the UL, CSA and EN Standards, as well as the Electrical Appliance and Marital Safety Law, and also have the CE Marking (Low Voltage Directive) affixed and RoHS Directive that prohibits the use of six chemical substances including lead and cadmium.
Wide Variety of products
Axial flow fan products are available in a large number of sizes and voltage characteristics, from large air flow AC axial flow fans to extraordinarily compact DC axial flow fans.