Production Performance | OEE
SSCN Number : SSCN-0003
Project Number : FASMY-1805-014
Solution : Production Performance | OEE
Industries : Electronic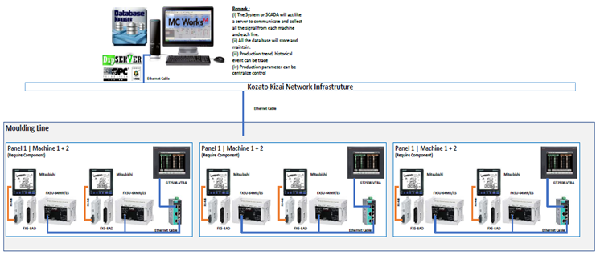 Problem Statement
– A lot of paperworks required to write the process parameter and quality result.
– No real-time information from production.
– Machine too old and PLC already Obsolete, cannot have communication protocol for digitalization.
Solutions
– Upgrade existing PLC to Mitsubishi latest PLC.
– Using Mitsubishi SCADA for data consolidation and Visualization.
– Change all the analogue sensor to a digital sensor for digitalization of process parameter.
– Real-time production performance can be determined.
Results
– Reduce manpower for all the manual recording and auto- generation of production report.
– Increase productivity and OEE.
– Production planning on system and transparency to everyone.
– Improve on the breakdown and reduce waste of material.